TECHNOLOGY
EQUTEX™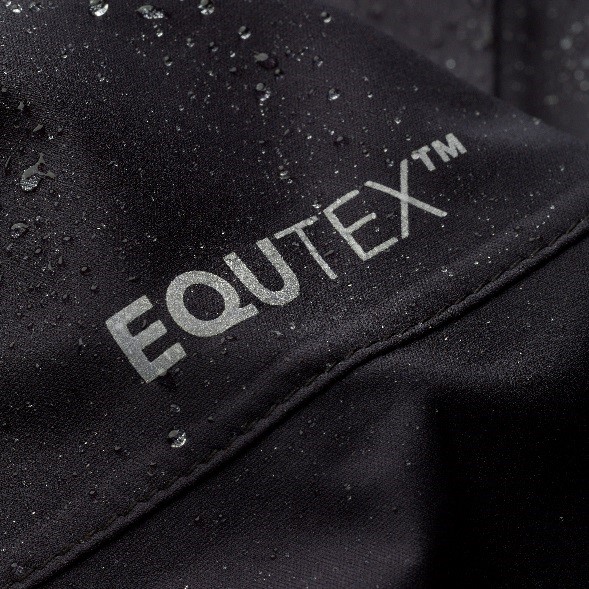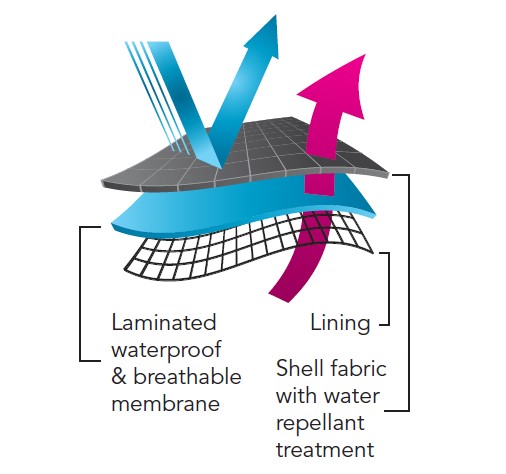 Technical knowledge combined with the innovative design creates the optimal riding gear for the active rider.
When you see a garment with the EQUTEX™ logo, you can be assured that a lot of thought and work went into the process of choosing and combining the right outer fabric with the right membrane. To create a garment that allows you to perform with your horse at your very best no matter the conditions.
Our EQUTEX™ fabrics are based on membrane technology and used in our high-performance garments, allowing the outer fabric to be waterproof while maintaining high levels of breathability.
STIERNA's EQUTEX™ garments not only protect you from the elements but also manage moisture and maintain proper heat balance to keep you dry, an important part of staying comfortable. Breathable outerwear allows moisture to evaporate rather than trapping it against the body.
An ultra-thin film is laminated (glued under pressure) to the inside of the outer fabric. This film contains microscopic holes that are large enough to release water molecules (perspiration) in the form of steam (transpiration) from our bodies. However, they are too small to let in 1 000 times larger water drops from rain or snow. The difference in temperature and the so-called steam pressure between the inside and outside of the fabric is what drives the steam (perspiration) out through the fabric. This is called breathability and the technology that keeps you comfortable.
• EQUTEX™ garments are waterproof yet breathable. This protects the user from the rain while keeping the body cool and dry by wicking away body moisture.
• EQUTEX™ are different membranes combined with carefully chosen outer fabrics to create combinations to meet specific requirements.
• All seams on an EQUTEX™ garment are tape-sealed
• All EQUTEX™ garments are treated with an Eco-friendly fluorocarbon-free DWR treatment.
• EQUTEX™ garments withstand a water pressure* of minimum 20 000 mm.
• EQUTEX™ garments have a breathability** of minimum 20 000 g/m2/24h.
*Waterproofness is measured in water column, i.e. the pressure a fabric can take before it starts to leak. The higher the water column, expressed in mm, the more pressure the fabric can withstand.
** Breathability is measured in the number of grams of water a square meter of fabric can release in 24 hours, g/m2/24h. The higher the figure, the more moisture is released.
3M Thinsulate™
3M Thinsulate™ Insulation is produced by a special technique with extremely fine microfibers, that gives more fibers per m2 that can trap air and block body radiant heat loss, than on a standard polyester padding. The fine microfibers give warmth without extra weight, making 3M Thinsulate™ an efficient insulator with a very high warmth-to-thickness ratio enabling garment designs with less bulk and enhanced freedom of movement. 3M Thinsulate™ is breathable and withstands moist and will keep you warm and dry.
3M™ Scotchlite™
Whether out riding or working at the stable, 3M™ Scotchlite™ reflective material helps you to be seen at dawn, dusk, or night, in all weather conditions. 3M™ Scotchlite™ uses a technology known as retro reflection. A large amount of reflected light is returned directly to the original light source, such as a car's headlights. Since very little light is scattered when the light is returned, retro-reflective materials appear brightest to an observer located near the original light source such as behind the wheel of a car. 3M™ Scotchlite™ reflective material is available in a variety of configurations that meet or exceed the minimum EN-471 & CSA Z-96 standards for high visibility.
Bamboo charcoal / Cool Anti-Odour™
Stierna's Cool Anti-Odour™ fabric in BambooCharcoal-polyester is developed to have high moisture transportation and is naturally anti-bacterial, without any chemical treatments, which minimize bad smell and you will stay fresh both during and after your ride. The bamboo charcoal gives UV protection up to UPF +30 and comes with a natural coolness and soft touch to keep you dry and comfortable at all times.
Air drizz® softshell
The air drizz® softshell is designed to have excellent body heat control and transport moisture rapidly to ensure full performance during high-level activities. The high-tech membrane with the breathability of 15 000 g/mm2/24h is combined with a 4-way stretch shell fabric to allow full movement. The shell fabric has an Eco-friendly fluorocarbon-free DWR treatment and with a waterproofness of 500mm, a light drizzle will be no problem. The brushed fleece inside is added to give warmth and boost the moisture transportation which will make you stay dry and comfortable at all times.